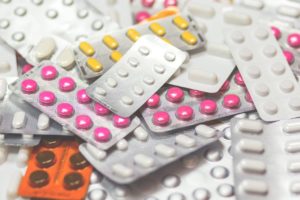 Pharmaceutical Transport is a heavily regulated freight category …and rightly so. The safe shipment of pharmaceutical products, from labs and factories to warehouses, hospitals and pharmacies, is one of the most important responsibilities of our industry. 
At Baku GLS, we've been shipping pharmaceutical goods, like medicines, veterinary drugs and medical supplies for over 20 years — it has become an area of expertise for us. Find out what's involved in Pharma Transport in this week's article. 
Transporting Pharmaceutical Products from & to Ireland
Did you know that medical and pharmaceutical products accounted for a third of all Irish exports in 2018?* It's probably the biggest category of goods exports in Ireland's economy, but it comes with its own challenges for those of us in the transport industry. With pharmaceutical logistics, the cargo is often highly fragile, goods need to be moved and stored in accordance with very demanding regulations, and the supply chain needs to move exceptionally fast. 
Why are Pharma Transport regulations so demanding?
Most modern medicines contain an 'active ingredient' (the compound in a drug that provides the cure). These active ingredients are often very delicate, and can break down or fail to work if they're exposed to a change in temperature, UV light or moisture. That's why modern Pharma Transport regulations are so demanding; if storage & transport rules aren't followed to the letter, then the drugs that arrive in the hands of patients might not work. 
Transport: Moving Pharmaceutical Goods
Pharma goods are often transported in a 'cold chain', which is a supply chain where cargo is kept cold at all times. When moving medicines, you can't 'break the cold chain' at any point — goods have to stay in a temperature-controlled, monitored and alarmed environment from the moment they leave the factory right through to the moment they are given to the patient. At Baku GLS, our secure refrigerated trailers are satellite-tracked 24/7, and in the unlikely event of a temperature excursion (a change of as little as one degree celsius), the driver is alerted and head office are made aware. We also keep a log of the temperature of our cargo throughout its journey, and can move goods into cold storage almost anywhere in Europe in the event of sudden equipment failure. 
Storage: Keeping Pharmaceutical Goods
We also have the ability to keep pharmaceutical products in temperature-controlled storage. Our fridges are alarmed and monitored 24/7, just like our climate-controlled trailers, and our warehouse team follow strict protocols when moving pharma goods from a trailer to a storage unit, to ensure the cold chain isn't broken. Once pharma goods are in our warehouse, we have inventory management systems in place to ensure that fragile drugs are never at risk of being opened, will not interact with the drugs they're sharing a pallet with, and – most importantly – can be distributed in good time when the need arises.
Will Brexit harm Ireland's pharma supply chain?
As an industry, we're very concerned about what Brexit might mean for the safe and speedy distribution of vital medicines. Commonly-used drugs like insulin need to move quickly through the supply chain — if trailers are stuck at congested ports, shipments could be spoiled and lives could be endangered. The EU have released a joint statement saying that the pharmaceutical supply chain is going to be protected in any Brexit scenario. At Baku GLS, we have created our own contingency plans and we're keeping a close eye on Brexit developments. You can find out more on the Baku Brexit Hub. 
Baku GLS are GDP Passport Holders
All EU-based transport companies are required to follow a set of procedures called GDP (Good Distribution Practice) when moving medicines. At Baku, we're proud holders of a GDP Passport, which was awarded to us by the IEA in recognition of our compliance with EU pharma transport regulations. You can find out more about Baku's GDP Passport here.
Learn more about Baku's Pharma Transport Service
* For more information, take a look at the Central Statistics Office's Import / Export Figures