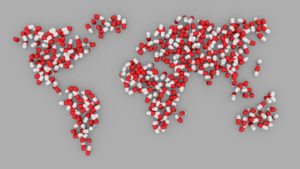 As GDP Passport holders, we're all too aware of the importance of good supply chain risk management when transporting medicines.
This week's article takes a closer look at the European Commission's GDP and GMP standards, and explains the risks unique to the pharma industry.
What is GDP (Good Distribution Practice)?
When it comes to the manufacture and distribution of medicines, it's absolutely vital that goods are made and shipped in a controlled, accountable and globally-acceptable manner. That's why the European Commission have created directives and guidelines specific to the pharma industry, grouped under two main categories: GMP (Good Manufacturing Practice) and GDP (Good Distribution Practice).
The EC's GDP standards require pharma companies to consider all possible transport risks, and draw up plans to avoid those risks, whenever they're planning to transport medicines. In simple terms, GDP is all about maintaining the integrity of the product, the security of the cargo in transit and the transparency of a product's journey, from the point of manufacture right through to the final point of sale.
What sort of risks need to be managed in Pharma Transport?
In most of the industries we support, the most common transport risks are typically simple issues like theft or delayed delivery, which are relatively easy to plan for and avoid. In pharmaceuticals, the risk profile is more complicated, because the goods we're shipping are often time-sensitive and temperature-sensitive.
Product Integrity: Temperature
Many life-saving medicines need to be kept at a precise temperature throughout their life cycle, from manufacture right up until the moment they're ingested by the patient. We ship temperature-sensitive goods on refrigerated trailers, with alarms that sound if the air within the trailer goes up or down by more than a few fractions of a degree; we also plan our routes so that, in the event of an emergency, a temperature-controlled warehouse is never too far away. GDP goes beyond the trailer itself; we also have protocols to govern the loading and unloading of goods, so that temperature-sensitive medicines are transferred from one climate-controlled environment to another as efficiently as possible.
Product Integrity: Expiry Date
Advanced medicines often depend on a precise cocktail of active ingredients, many of which start to lose their potency over time. If a pharma trailer is held at a border or misses a sailing, this delay can eat into the lifespan of the drug, creating critical problems for patients. Part of good pharma GDP is making sure that routes are planned to handle run-of-the-mill problems like traffic jams and bad weather at ports.
Trailer Security
Trailer security is about more than anti-theft measures. Contamination is a real risk to food and pharma goods, so the atmosphere within the trailer needs to be controlled and monitored. At Baku, we've invested heavily in the best fridge trailers, security technology, climate control and monitoring systems to ensure that the medicines we transport reach their destination in laboratory-standard conditions.
Supply Chain Transparency
Pharma clients need to know that their transport partner is managing risks correctly; in fact, it's a requirement of Good Distribution Practice. GDP makes pharma companies directly responsible for the avoidance of risk in their supply chain, so clients have to know how their shipments are going to be handled at every stage of its journey, from factory to patient.
This level of transparency is hard to deliver; common-sense monitoring systems like GPS and onboard CCTV exist, but don't always talk to each other. To fix this, a new supply chain infrastructure system called Mytigate is in development. Mytigate aims to remove all of the blind spots in pharma clients' oversight of the supply chain by standardising IT and reporting systems across the whole industry. Funded 50:50 by public and private investment and chaired by representatives from Frankfurt University of Applied Sciences, we're hopeful that Mytigate can eventually deliver an even higher standard of transparency than GDP currently requires.
Baku GLS are GDP Passport Holders
At Baku, we're proud to be one of the few operators in Ireland to hold a GDP Passport. The GDP Passport is backed by the Irish Exporters Association and is only awarded to operators who meet the highest standards of safety and GDP & GMP compliance throughout their whole supply chain.
For us, GDP runs much deeper than insurance policies, written protocol documents and onboard CCTV cameras. It's about getting life-saving medicines where they need to go. Find out more about the IEA's GDP Passport accreditation and discover how Baku's pharma & healthcare transport services can support your business.