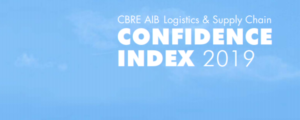 There are plenty of reasons to be optimistic in this year's CBRE AIB Logistics & Supply Chain Confidence Index. 
Overall confidence in the market has fallen, but the majority of businesses in Ireland's supply chain expect to increase turnover and profits in the next 12 months. Warehouse demand is up, and Brexit expectations are shifting, too.
Market hopes fall, profit hopes rise
The report shows that confidence in the market has fallen this year, but when supply chain business leaders were asked to forecast the earnings of their individual businesses, most were optimistic. 72% of respondents said that they expect general conditions in Ireland's supply chain to become more difficult over the course of 2019 (nearly double last year's 38%), but 69% of those same respondents expect turnover to increase. In fact, 61% expect to see higher profits this year. This optimism is evenly spread across every business type in Ireland's supply chain; the majority of logistics businesses, manufacturers and retailers all reported higher earnings expectations for 2019. 
An industry preparing for growth
One of the most reassuring findings on this year's report is that just 6% of business leaders expect to reduce headcount this year. Not only is this half last year's figure of 12%, suggesting an improvement in cash flow expectations for 2019, but it's dwarfed by the 18% of respondents who expect to hire aggressively and grow their head count by 5% or more. 
Good news for commercial property
Demand for warehousing has grown as the business case for stockpiling goods has grown stronger, and it's showing no signs of slowing down. We've noticed an increase in warehouse enquiries in our own business, as have many others in the supply chain. In fact, 77% of respondents to the CBRE/AIB survey expect an increase in demand for warehousing in 2019.
This renewed warehousing demand is already translating into increased rents for commercial storage and industrial space. As demand outstrips supply, CBRE are expecting Dublin prime industrial rents to go up by as much as 6.5% over the course of this year alone.
Brexit dampens profit expectations
The mood surrounding Brexit is still bleak. 84% of respondents believe that Brexit will have a negative impact on supply chains across the island of Ireland. The majority (66%) expect profits to decrease in the event of a no-deal Brexit. If a Brexit deal is achieved, then the majority (57%) expect to see no change in their profits. 
Considering that 61% of respondents expect profits to go up this year, but most expect Brexit to have a dramatically negative effect on their business, it's clear that Ireland's supply chain has little faith in the latest Brexit date of 31 October 2019. Many are starting to expect Brexit to take place in 2020 or later. 
About the CBRE AIB Logistics & Supply Chain Confidence Index 
Since 2016, the CBRE AIB Logistics and Supply Chain Confidence Index, backed by Freight Transport Association Ireland, has gauged the mood of CEOs, MDs and senior managers involved in Ireland's supply chain. An annual report, it gives a detailed, up-to-date snapshot of the supply chain industry's expectations as a whole, and reveals the current priorities of most logistics, manufacturing and retail sectors on the island of Ireland.
You can download this year's report from the CBRE website here (registration is required).