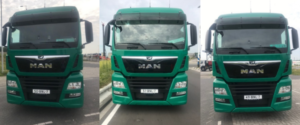 In response to increased demand for our continental express services, we're adding three more brand-new MAN TGXs to the Baku GLS fleet. These stunning new tractor units sail for Ireland today, and will be ready for action by the end of next week.  Purpose built for double-manned journeys, these trucks give us the ability to provide exceptional express services – both ways – between Ireland, Germany and the Benelux countries.
3 Brand New Double Manned MAN TGX Trucks
Our gleaming new double-manned MAN TGX trucks arrived in Rotterdam harbour this morning, ready for a weekend sea crossing to Baku GLS headquarters in Rosslare, Ireland. These brand new vehicles arrive on Monday morning, then we'll get them weighed and registered before sending them out on their first assignments towards the end of next week. 
Express Groupage & Full Load Services to Ireland, Benelux and Germany
Each of these new MAN TGXs can carry two drivers on a shift rotation. This means that the vehicles can spend much longer periods of time on the road; in fact, the effective continuous range on each of these 3 trucks is anywhere from 1,200 to 1,300 kilometers. That's enough for us to complete 2 round trips to Germany, per truck, per week. All three vehicles will support our express groupage and express full load clients shipping goods to and from Ireland, Germany and the Benelux regions. 
MAN TGX: Sustainable and Powerful
We've stuck with MAN's TGX model for these 3 new trucks, bringing our total fleet to almost 50 tractor units. The MAN TGX offers exceptional performance in terms of sustainability, reliability and safety – especially when the drivers have completed MAN's ProfiDrive training program. With the support of our driver trainer Donna Whelan, our team of drivers can squeeze every last drop of efficiency out of these new machines from day one. 
Committed to Delivering Excellence
At Baku GLS, we're committed to delivering an exceptional express service. That's why we've invested in these brand-new, highly efficient double-manned vehicles. In a week's time, these three new trucks will hit the road, keeping emissions low and fuel costs manageable for our growing client list. Learn more about the Baku GLS fleet or make an enquiry.