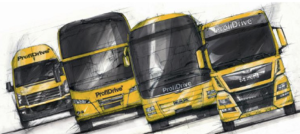 Last week our driver trainer Donna Whelan spent a day at the Pon Academy in Nijmegen, Netherlands, where she received the latest MAN ProfiDrive qualification.
Donna's ProfiDrive mentor trainer qualification means she can now coach all of our drivers on the safe and efficient handling of our new trucks, which will help us to increase fuel economy and reduce the environmental impact of our business throughout 2019 and beyond.
Making the most of our new machines
On a course that covered everything from engine braking to coasting and acceleration, Donna was introduced to the latest gearbox technology and intelligence onboard each new vehicle. By learning how the technology behind MAN's new adaptive cruise control, intelligent gearbox and emergency brake assist responds to the commands of the driver, she can now teach us all how to get these trucks to work better for longer.
Congratulations on the new qualification Donna, and thanks to Hugo Oorlog and his colleagues at Pon for their support last week!
Find out more about Baku's training process – visit Driver Training & Screening