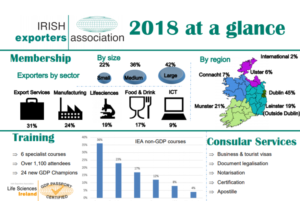 The Irish Exporters Association have just released a summary of their activities in 2018.
It will come as no surprise that Brexit preparations have taken centre stage, as is right and proper given what will happen on 29 March of this year.
Safeguarding our industry's future
For those of us on the front lines, the IEA have gone to great lengths to get us ready for Brexit. With Customs Awareness courses, specific training programmes like "Brexit for your Supply Chain" and the development of a new Certificate in International Trade, the IEA have helped us all to prepare ourselves and our teams for the turbulent months to come. They've also conducted a series of studies around Brexit preparedness; it's telling that, as an industry, most of us are expecting a no-deal Brexit and the return of tariffs, customs checks and border controls.
Our industry's voice in international politics
The IEA's voice was heard by government this year — there's no question. Revenue Commissioners personally appeared at a series of seminars and talked us through the customs procedures we're likely to face as the UK becomes a third country. It wasn't just our own government who responded to the IEA's calls: Lord Michael Heseltine, Sir Nick Clegg and Lord Andrew Adonis from the UK shared their thoughts at a Roundtable on the impact of Brexit on Irish Businesses back in March.
Preparing us all for a new Trading Framework
Our trading framework with the UK will change in 2019 — that's one thing we can count on — and the Irish Exporters Association have put a lot of work into getting us all ready for the change. In 2018, the IEA trained over 1,100 transport professionals on international trading standards and the kinds of issues we can expect to face post-Brexit.
GDP growth of a different kind
Recognition of the IEA's GDP (Good Distribution Practice) standard is growing; 24 new GDP Champions were certified in 2018. GDP standards are designed to safeguard the quality of medicinal products moving through the supply chain, and we expect Baku's GDP Passport will help reassure our UK, EU and domestic clients in the months following Brexit.
An association to be proud of
In the run-up to 2019, the IEA helped our industry speak as one voice, and they've shown exceptional levels of preparedness and agility, which we are sure will continue throughout 2019. Take a look at a summary of the IEA's activities last year on this infographic.