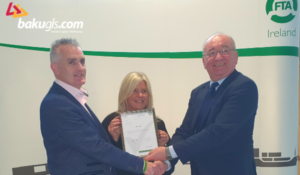 It's been a busy week here at Baku GLS! 
On Wednesday, Baku's Mary Mullins and Phil Cassidy attended FTA Ireland's council meeting, where Mary gave a talk on the AEO application process before we were formally presented with our TruckSafe Silver Standard certification. 
Find out all about the FTA Ireland Summit in this week's article. 
The FTA Ireland Summit
Following our recent AEO accreditation, Baku's Business Development Manager Mary Mullins was invited to talk at FTA Ireland's last council meeting on 20 November. Mary has led Baku's AEO application over the past few months, so she was perfectly placed to explain the process from the perspective of an AEO applicant. 
We also had an opportunity to discuss the other steps we've taken to expand our customs capabilities ahead of Brexit. On the transit side, we're now Authorised Consignors (we don't have to present goods at the customs office of departure.) and Authorised Consignees (we don't have to present goods at the customs office of arrival – we can receive goods moved under a transit procedure at our own premises). On the warehousing side, we can now offer Temporary Storage Facilities, ideal for our clients who need bonded warehousing services before or after Brexit. 
Freight Transport Association Ireland have been hard at work helping the industry to prepare for Brexit, so we were delighted to see such a mixed audience at the meeting; representatives from the Department of Transport joined manufacturers and transport companies in what was a very productive and informative summit.
Baku's Trucksafe Silver Standard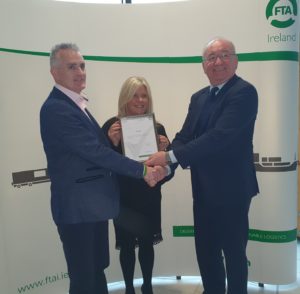 While we were in Dublin, it was a pleasure to formally receive our TruckSafe Silver Standard certificate from Jerry Meredith of the FTA. Recognised by the RSA, TruckSafe is a road safety certification scheme designed to promote the highest standards of road safety, sustainability and compliance in our industry; it's an award we're especially proud to hold. Pictured are (L-R) Phil Cassidy, Baku GLS Fleet Manager; Mary Mullins, Baku GLS Business Development Manager; Jerry Meredith, FTA Ireland Business Service Manager.
About FTA Ireland
FTA Ireland is a not-for-profit membership trade association for the Irish freight and logistics industry. Covering all aspects of private and public freight transport, passenger transport and Ireland's supply chain, the FTA's mission is to help its members develop safer, more efficient and sustainable supply chains and transport operations.
Discover Baku's Other Awards & Certifications 
We're proud of the accreditations that we've achieved here at Baku GLS. Testament to our high standards of service, our accreditations form an increasingly important part of our risk management processes for 2020 and beyond. Find out more on our Baku Accreditations & Awards page.