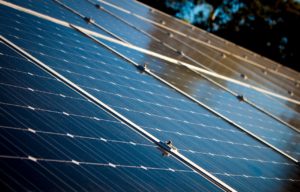 Baku GLS is going solar powered in 2020! 
As part of our ongoing commitment to carbon footprint reduction, we've engaged Solar Electric to custom-build a bespoke PV system for the roof of our bonded warehouse in Rosslare. 
Planning permission for the project will be lodged in the next few weeks. If all goes well we expect an environmentally-friendly solar-powered headquarters by the middle of next year!
Why we're investing in Solar Panels
Our 40,000 square foot bonded warehouse is fully equipped with secure automated shutters and alarmed fridges, all of which draw a lot of power from the ESB grid. Our offices are also located on the same site. With the new PV system we're installing, we'll be able to cover the majority of our warehouse and office power requirements, especially in the sunny summer months. We'll reduce our carbon footprint and we'll literally stop tonnes of carbon dioxide from entering the atmosphere.
Baku's Bespoke PV System
Most domestic PV (Photovoltaic) systems have a power output of anywhere from 1,000 to 3,500 kWh (kilowatt hours). At our Rosslare headquarters, we're installing a system that can produce a whopping 50,000 kWh per annum. In consultation with Solar Electric, we've chosen a fully scalable array of 176 solar modules, mounted on a custom-built pitched roof mounting system. Power from the sun will feed down into a state-of-the-art German-manufactured power inverter for distribution around the warehouse and offices. The whole PV array will occupy a small fraction of our warehouse roof space (less than 300 square metres), but we expect it to cover 60% of our annualised power needs (winter and summer months combined). 
A Future-Proof Solar Solution
When it comes to sunshine, Rosslare is no Rio de Janeiro, so we were delighted to discover that we could make such a massive difference to our carbon footprint with this new PV system. Not only is this the ideal setup for our short-term power needs, but it's also a fully scalable solution. Pending planning permission, we can double the number of solar panels on our roof and produce 200 KVA; this will ensure that we can meet 100% of our growing power needs in the future, and potentially support the ESB grid in 2-3 years time.
Learn more about Solar Power for Business
With this new PV system, we'll have an exceptionally low carbon footprint at our Rosslare headquarters. 50,000 kWh converts to c.18,000 kgCO2e – that's about 18 tonnes of carbon dioxide that won't be getting pumped into the atmosphere as soon as we get this solar array live. If you'd like to achieve similar goals in your business, we can recommend a few sites…
Sustainability throughout the Supply Chain
Our commitment to the environment doesn't stop at the front gate. We continue to invest in fuel-efficient tractor and trailer units, and we train our staff on sustainable driving techniques. Find out more on our Environment page.