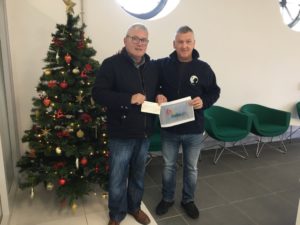 We're getting into the Christmas spirit here at Baku!
This year, the Baku GLS team joined forces with Danone to support some of Wexford's worthiest causes. 
With donations to St Vincent de Paul, Homeless Open Arms and Talk to Tom, we've been able to give something back to those in need at an important time of year.
Pictured are Ray Cullen of Talk to Tom, and Paul Fox of Danone, presenting Baku's donation.
Our Clothes Drive For Local Causes
Our very own Jenny Fox and her brother Paul Fox, who works for Danone, organised a massive clothes drive across both companies this year. With a few friendly prompts from the Fox siblings, Danone and Baku staff members raided their own wardrobes for donations and – in the end – over 50 bags of clothes were donated! The clothes were split evenly between Homeless Open Arms and the Society of Saint Vincent de Paul, two fantastic local causes that help those in need all over south east Ireland.
Society of Saint Vincent de Paul
Since 1844, the Society of Saint Vincent de Paul has been helping fight poverty and disadvantage all over Ireland. In Wexford, volunteers from St Vincent de Paul make personal home visits to individuals and families facing hardship, then help out by organising anything from education grants to hostel accommodation and respite care. Many of the clothes that we donated to Saint Vincent de Paul will be sold on through the Vincent's network of charity shops.
Homeless Open Arms
Led by the unstoppable Pops McMahon and his family, Homeless Open Arms is a New Ross non-profit that supports homeless people all over the south east. Homeless Open Arms accepts donations of clothes, food, soap and other essentials, and then distributes 100% of these goods to homeless people all over Wexford, Waterford and Kilkenny. The clothes we gave to Homeless Open Arms will – thanks to Pops and his team – help keep homeless people warm and dry this Christmas. 
Financial Support for a vital Counselling Charity
As a company, Baku GLS also donated €500 to Talk to Tom, a local suicide prevention and counselling charity based in Gorey. 
Ray Cullen, Talk to Tom's CEO, kindly wrote to us to confirm that our donation will help a 15 year old girl with a severe disability who has been on a waiting list for counselling for over 12 months. Her support programme started earlier this week — we're delighted to see that Ray and his team have already put the money to good use.
Talk to Tom
Founded in 2012, Talk to Tom is a community-based suicide prevention, mental health awareness and bereavement support charity that has already helped more than 2,000 people from all over Wexford. Completely volunteer-led, Talk to Tom receives no state support or grants — it's completely reliant on donations from local individuals and businesses.
Find out more and get involved
These three charities are all volunteer-led organisations that give freely of their time to help those in need. If you'd like to learn more or get involved, please take a look at the links below: