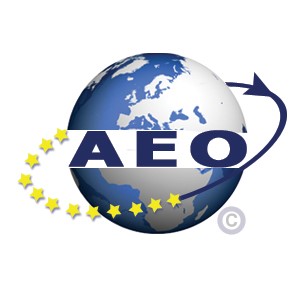 Baku GLS have today been awarded AEO status!
AEO (Authorised Economic Operator) is the gold standard for international supply chain operators in Europe. It's an accreditation that's recognised around the globe, and it's only awarded to the most reliable operators with an exceptional track record. 
Fewer than 250 companies in Ireland hold this prestigious accreditation, so we're delighted to have been granted AEO status.
Find out more about what it means to be an AEO, and how this new standard benefits our clients.
What does AEO mean?
The EU's Authorised Economic Operator (AEO) programme was set up in 2008 as a risk management system. The AEO framework recognises EU-based transport businesses that meet the highest standards of safety, security and customs compliance. If you see the AEO logo on a company's letterhead, you can trust that you're dealing with a reliable, world-class transport operator. What's more, AEOs are treated differently to normal transport providers when transporting goods into/out of the EU.
What's the benefit of hiring an AEO transport provider?
When the UK leaves the EU and becomes a third country, we believe that our AEO accreditation will give our  trucks the best possible chance of moving swiftly through the ports at the UK/EU borders. AEOs benefit from…
Simplified customs

: the customs procedures and paperwork requirements are simpler for AEOs than for normal transport companies

Favourable treatment

: There are fewer physical and document-based controls for AEO entities, as they have already undergone a rigorous accreditation process and shown themselves to be reliable operators over the long term

Prior notification

: As an AEO, you are given prior notification of selection for customs control. This means you can keep clients updated of any delays long before goods are due to arrive at their final destination

Priority queueing

: AEOs get priority in the customs queue, which may become very important after Brexit

Location flexibility

: As an AEO, you are able to ask for customs controls to take place at a location of your choosing. This means that you can leave the port and continue on your journey, conducting the final customs checks at a place that suits your customers better.
Is AEO status recognised outside of Europe?
AEO is used across all 28 EU member states, but it's underpinned by World Customs Organisation standards, and it's recognised internationally as the EU's own 'Trusted Trader' programme. Thanks to  a number of Mutual Recognition Agreements with non-EU countries around the globe (including Japan and the United States), AEOs can move goods swiftly and securely all over the world. 
How do you qualify as an AEO?
It takes a lot of work to become an AEO. There are strict and detailed standards you need to meet in order to qualify, particularly in the 4 main areas listed below.  AEOs need to be able to demonstrate:
A long-term record of legal & tax compliance

A high level of control, both in terms of their own operations and the flow of goods

Financial solvency and good financial standing

Practical standards of competence and professional qualifications
In essence, you need to be able to prove that you are a low-risk operator that has been meeting the highest standards of compliance, safety and security for an extended period of time, and that your business is run by a team of experts. More information on how to qualify for AEO status can be found on the Revenue.ie website here.
Will AEO companies be able to travel faster after Brexit?
If port authorities need to deal with congestion or delays of any kind after Brexit, they will prioritise AEOs ahead of all other supply chain traffic. AEO status is the highest and most secure customs standard for both the EU and the UK – it is an established, mutually-recognised system that authorities on both sides of the EU/UK border have been using for more than ten years – so trucks that meet the AEO standard will be able to get out of the ports much faster, and will require fewer physical customs inspections. The full list of Irish AEO operators can be found here. 
Baku GLS are proud to hold the AEO standard
Whatever happens on 31 January next year, at Baku GLS, we want to continue to deliver excellence for our clients. That means we need to be able to move goods quickly and safely between Ireland, the UK and mainland Europe, without any unnecessary restrictions or delays. Our AEO status, combined with our other accreditations and Brexit preparations, positions us perfectly to deal with whatever 2020 might throw at us. Get in touch with Baku GLS today and we'll show you how we can keep your goods moving in 2020 and beyond.