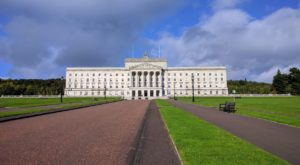 Following "very positive and promising" private talks with Boris Johnson yesterday, Leo Varadkar announced that he could see a "pathway towards an agreement in the coming weeks". With tentative progress being made on a workable Brexit deal between Varadkar and Johnson, it's possible that we may, at long last, be seeing some light at the end of the Brexit tunnel. But what could this all mean for those of us shipping goods to and from Northern Ireland? What customs arrangements do we need to prepare for, and what are the likely timelines we need to work to?
What has the UK government proposed?
The specific details discussed between the Irish and UK leaders yesterday are being kept under wraps, but a few ideas have already been made public by the UK government. The UK's current public proposals are visible on the Gov.uk website here, but in summary…
Northern Ireland could remain in the EU customs union

for at least a year (leaving in 2021)

NI & ROI could share an 'All Island Regulatory Zone'

, ensuring that all agricultural goods, retail goods and other specific types of goods, are required to meet the same safety and quality standards

Customs checks could happen away from the border

, with authorities and businesses availing of the latest technology wherever possible

Certain

businesses could be granted exemption from customs checks

(e.g. SMEs and accredited transport providers)
Every 4 years, the NI Assembly would have a right to review

any border arrangements between the UK and ROI
In simple terms, these proposals represent a big step forward in Brexit negotiations. The lack of a right to change border arrangements is one of the main reasons why Theresa May's EU Withdrawal Agreement was rejected, and these proposals would give the people of Northern Ireland long-term control and autonomy over the UK's only land border. 
What could this mean for Irish Transport?
If the UK's proposals meet with the approval of European leaders, then those of us in the Irish transport industry could get some much-needed clarity on what happens next in Brexit. While we would all welcome some progress on Brexit, we would need to prepare for new costs as an industry:
Likely Costs for the Irish Transport Industry:
Fresh IT Systems – Transport businesses will most likely need to invest in new IT systems. Technology will play a pivotal role in any border solution, and it will cost money to ensure that government-mandated formats, standards and systems all work with the transport industry's existing software.
More Accreditations – If border checks can't take place, then authorities will rightly need a fair and transparent way to trust the businesses involved in Ireland's supply chain. Any businesses involved in import and export are already being urged to secure an EORI number ahead of Brexit, and we expect industry accreditations to become even more important in the event of an unmanned border free of customs checks. Accreditations take time and effort to earn, all of which costs money. At Baku we already hold a GDP Passport and the Trucksafe Silver Standard, and we're in the process of applying for AEO status.
Customs Checks at Premises – Fast-flowing borders could mean slow-moving forecourts. The UK and Irish governments can remove customs checks at the border, but if they can't come up with strong bilateral customs agreements at the same time, then customs checks will still need to take place

somewhere

. If cargo still needs to be spot-checked by customs officials, the most likely destination for these checks will be the warehouses and depots at either end of the cargo's journey. This isn't practical in every case, as many manufacturers, hauliers and distributors simply don't have the forecourt space, or the security arrangements, needed to hold trailers in a quasi-bonded state while they wait for customs authorities to do the rounds. 
How likely is a new Brexit deal now?
For the past three years, Leo Varadkar has been all too aware of the dangers Brexit poses both to Ireland's supply chain and to the Northern Irish Peace Process, so if Leo Varadkar is happy with the latest round of Brexit talks, then it must be good news. In any case, there's still a lot of work to do before a new deal can be formally announced and ratified. The integrity of the EU's customs union must be defended, otherwise any new deal could face a veto. What's more, Westminster has grown more polarised and toxic over the past year; it could prove harder to get a deal done in the House of Commons (even if it's a "better deal" this time around).
What happens next?
We can expect to learn more about what was discussed between Varadkar and Johnson next week. Brexit will be top of the agenda for the next EU summit in Brussels on Thursday 17th October; meanwhile Westminster MPs take their seats for the Queen's Speech on Monday 14th October. At Baku, we'll continue to monitor this fluid situation closely and make sure that – delay, deal or no deal – we can continue to deliver excellence for our customers. Find out more on our Baku Brexit Hub.