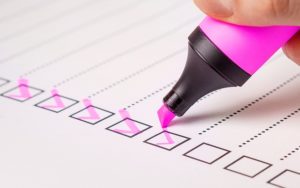 Brexit Day is less than a month away, and we still don't have a deal between the UK and the EU. As part of our contingency plans, we've put together a checklist of basic steps that our clients can take now to prepare for what happens after Brexit Day. 
You might not be able to avoid new costs and delays in the event of a no-deal departure, but you can certainly plan ahead. Get ready for anything on 31st October with our no-deal Brexit checklist! 
No-Deal Brexit Checklist: What to do by the end of October
☐  Get your EORI number
It's well worth getting an EORI if you haven't done so already. If the UK leaves the EU without a Brexit deal, then clients will need an EORI number that starts with GB to move goods in or out of the UK. There are going to be exceptions for goods that only travel between Northern Ireland and the Republic of Ireland, but if there's a chance you'll be moving goods through England, Scotland or Wales in the next 12 months or so, then it's wise to sort out an EORI now. We've been through the EORI registration process ourselves, and can advise you if you need help. You can also visit the Gov.uk website to find out more about the EORI registration process
☐  Plan for port delays
If a no-deal Brexit takes place, we should expect major delays at the ports for at least the first few weeks of November 2019. From midnight on 31st October, port staff will suddenly have to handle high volumes of new customs checks and work through brand-new untested IT systems and procedures; we expect this sudden new workload to create queues on the approach to most harbours. If UK-bound ferries are forced to postpone scheduled sailing times as a consequence of delays on the tarmac, then trucks using the UK land bridge will run the risk of missing their connecting ferry on the other side of the UK. We could see delays of 24 hours or more on shipments between Ireland and mainland Europe. Port authorities across the EU have prepared as best they can for every Brexit scenario, so we don't expect delays to be permanent, but we certainly need to expect teething problems from, to and through the UK for the first few weeks.
☐  Budget for customs duties
If the UK leaves without a deal, goods will be subject to temporary rates of import and export customs duty from midnight on 31st October 2019. A full and up-to-date list of the rates the UK expect to implement are listed on the UK government site at this link –  there's also a trade tariff tool on the same site where you can double-check your commodity codes and make sure you're budgeting for the correct amount of VAT and customs duty. 
☐  Review your legacy contracts
If you buy from, or sell to, a business in the UK, the Incoterms you both agreed to will clearly define who is responsible for paying VAT and customs duties at each stage of a shipment's journey. Duty payments haven't really been a concern for most buyers and sellers in the EU in the past, but they'll certainly become an issue if the UK leaves without a deal, so make sure you know what costs you're likely to face. You can find out more about how Incoterms could impact your business on our recent article about DDP, or you can take a look at our Incoterms PDF guide. 
☐  Prepare for Foreign Exchange rate fluctuations
A no-deal Brexit will impact every sector of the European economy, so you need to expect volatility in the GBP:EUR exchange rate for at least the next 6-12 months. If you've never had to plan for currency volatility before, there's a good introductory article on the Irish Times website which explains some of the steps businesses can take to protect themselves against currency fluctuations. We also recommend talking to your accountant and potentially getting specialist advice, depending on your reliance on customers and suppliers based in the UK. 
…and remember, Brexit might still be delayed
A no-deal Brexit is by no means set in stone, even at this late stage. The chaotic scenes in Westminster might leave us with the impression that a no-deal Brexit is inevitable, but a delay to early 2020 is still just as likely. The default legal position is that the UK's Prime Minister must ask for another extension if a Brexit deal can't be done in the next few weeks. If a third Brexit delay is triggered, a general election in the UK is almost certain to follow, and we'll probably have a different set of scenarios to prepare for by 2020, but we will at least have some short-term certainty in the run-up to Christmas.
Keep an eye on our Brexit Hub over the coming weeks, where we'll be posting updates as-and-when we know more.