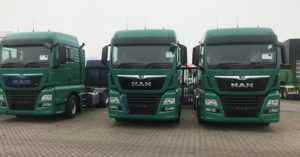 We're treating ourselves to a few early Christmas presents this year!
Three brand new right-hand drive MAN TGX tractor units have just arrived in Holland, ready to sail for our Rosslare headquarters in the next few days.
We've purchased these powerful, environmentally-friendly trucks specifically to support our Irish customers in 2020 and beyond.
Supporting our growing Irish freight business
Irish and international demand for our road freight services has increased this year, and 2020 is shaping up to be even busier. Right-hand drive trucks (like the beautiful brand-new MAN TGXs pictured above) are ideal for both Irish and UK transport projects, but we plan to start this trio of tractor units on Irish roads for the first few weeks at least. 
These trucks are only the beginning – we plan to grow the fleet again next year by at least 12 units. Some will be left-hand drive and some will be double-manned …all will be brand new.
Safe & powerful trucks we can rely on 
MAN TGX tractor units are well-known for their reliability.  We already own a number of TGXs and they run for thousands of miles with little or no maintenance. Their high-torque engines can handle even the most demanding roads and loads without breaking a sweat. 
The safety profile of MAN's TGX is excellent. Under the hood, advanced technologies like BrakeMatic (MAN's proprietary braking technology) and LGS (Lane Guard System) keep our drivers safe in emergencies. What's more, the visibility from these right-hand drive models is ideal for Irish and UK roads. The TGX has well-positioned mirrors and an exceptional array of onboard cameras — regardless of whether our drivers are moving full loads on a packed motorway or maneuvering trailers through a busy depot, the TGX gives them the tools they need to see what's going on all around them. 
Fuel-efficient trucks for a sustainable future
Everything about these vehicles is designed with fuel efficiency in mind. The chassis design offers an exceptionally low drag coefficient – it also helps cool the machinery when travelling at high speeds. The trucks are also equipped with MAN's TipMatic® gearbox and EfficientCruise® cruise control technology, two bits of kit that work hand-in-glove to squeeze every last drop of efficiency out of the drive. Our drivers are also ProfiDrive trained, which – combined with the built-in efficiencies of the MAN TGX – helps us to burn 6% less fuel per journey. 
Investing in Our Fleet
As Baku GLS grows, we're determined to expand our fleet in an environmentally-friendly, cost-efficient, sustainable manner. That's why we've purchased three more of the safest, smoothest and most energy efficient trucks on the road. It's also why we've invested in solar alternatives at our Rosslare headquarters. 
Find out more about our fleet, our bonded warehouse and our sustainability targets, or click here to get in touch.