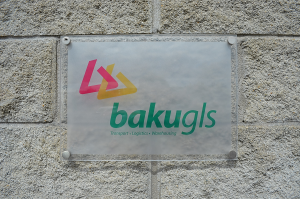 2020 marks a very special birthday for us here at Baku – we're celebrating twenty years in business!
When Baku GLS started, we were three people in a garage. Now, we're a multinational business serving thousands of clients all over Ireland, the UK and Europe. 
This week's article takes a look at our journey over the past two decades: where we've come from and where we're headed next. 
2000: Humble beginnings, big ambitions
The business was founded by Mary Barry and Uwe Kuhn (Ba & Ku) in the year 2000. In the very early days, we were a boutique transport company with no trucks, no trailers and no warehouse, and we focused purely on moving goods between Ireland and Germany. Our ambition for the business twenty years ago was the same as it is today: to deliver excellence – first time, every time. 
We opened routes to France, Italy and Spain in 2001, and by 2004 we were serving every country in Europe. We didn't buy our first truck until 2001, but by 2003 we had a fleet of over thirty Baku-branded trucks and trailers in service all over the continent. 
A holistic approach to supply chain support
Baku were well-known to general cargo customers in Ireland by 2005, but we had always wanted to offer more than straightforward transport. We knew that, with the right team of experts and with the right assets at our disposal, we could offer exceptional transport, logistics and storage solutions for our clients, and become a 'one stop shop'. 
After a long search for the perfect premises, we bought our 40,000 sq ft Rosslare warehouse in 2007. It was a big moment for the business when our first storage pallets arrived; since then, the warehouse has evolved beyond recognition. It's now a hectic, highly efficient bonded warehouse fit for whatever the next decade might throw at it.
The business evolved again in 2010 with our first order of double-floor dual evaporator fridge trailers. These trailers marked our first big step into specialist transport – we now had the ability to deliver first-rate pharma and ADR transport services for almost any client in Europe. The specialist side of our business has gone from strength to strength over the past decade; we operate hundreds of Climate Controlled, Pharma, ADR and OOG transport operations all over Europe.
2020: Looking forward to looking forward
For much of 2019, our industry was plagued by an overall sense of Brexit-fuelled negativity and uncertainty. When we look back on it, 2019 was also an exceptional year for our business. We grew our team, our fleet and our service offering. We upgraded our warehouse to a customs-bonded Temporary Storage Facility. We became AEO accredited. 2019 was certainly a demanding year, but at Baku GLS we're all the better for it. We're offering more services to more clients than ever before, and we have a lot to look forward to in 2020. 
As we look back on the past two decades, we're proud of what we have achieved. We've kept goods moving through recessions, booms and busts, and we've kept our standards of service high throughout. We look forward to doing it all again for another twenty years.
Happy New Year from all of us here at Baku GLS!