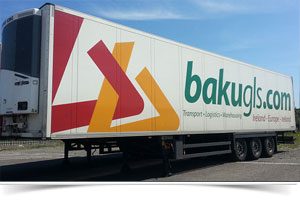 Do you know your step decks from your flatbeds? Not all HGV trailers are created equal! At Baku, we keep a fleet of more than 200 trailers, all built to suit different cargo types.
No matter whether you book full load or groupage, we'll transport your cargo on a trailer that offers the perfect balance of security, capacity and economy. 
What's the best trailer for my cargo?
At Baku, our experienced team of planners will help you choose the trailer type that suits the cargo you're trying to transport. All of our trailers are fitted with CCTV, GPS and alarm systems as standard, but we still recommend specific trailer types for high-value cargo and temperature-controlled goods.
Curtainsiders
Curtainsiders have removable walls, enabling client's cargo to be unloaded and loaded from the back, side or even the roof of the trailer if necessary. Curtainsiders are a popular choice for heavy cargo, timber, steel and other building products, where the risk of theft is low and the ability to load and unload goods at speed is a priority. At Baku, we maintain a number of Euroliner and Mega Euroliner curtainside trailers. We recently purchased 15 new Euroliners with sliding roofs, so that heavy goods can be loaded by crane if necessary. 
Box Trailers
A box trailer has solid sides, which gives the trailer more rigidity and security. Box trailers aren't as flexible as curtainsiders when it comes to loading and unloading from the roof and sides, but the solid walls make them the perfect choice for moving high value cargo and temperature-controlled goods. We keep a large and diverse fleet of box trailers, grouped into 3 main categories:
Insulated Fridge Trailers:

When goods need to be kept at a specific temperature range, a refrigerated box trailer is the perfect choice. If we have a client who needs to transport a full load of frozen foods, for instance, we will move their pallets on a refrigerated box trailer, where the insulated walls ensure that goods are kept at the perfect temperature in transit. Our fridge trailers are all equipped with temperature alarms, so if the climate inside the trailer falls outside of a specific temperature range, our driver is notified, and so are our planners at Baku HQ.

Dual Compartment Refrigerated Trailers:

These are a more advanced version of our fridge trailers, and they're the perfect choice for groupage clients transporting smaller loads of temperature-controlled goods, such as fresh fruit or pharmaceutical products. Dual compartment trailers have two separate refrigeration units, one at the front of the trailer and one at the back, and an insulated wall in the middle. This means that one truck can carry a mixed load of frozen and chilled goods. 

Double Deckers:

The strong sides of a box trailer give us the ability to add a 'second storey' inside the trailer itself. By adding a series of support beams, each capable of bearing a load of up to 1,000kgs, we can divide our box trailer vertically, and pack every square inch with goods that normally couldn't be stacked safely. All of our box trailers – including our standard fridge trailers and our dual fridges – can be converted into double deckers to suit the needs of the client's cargo, increasing capacity from the standard 26 to 52 pallets. A double-decker layout is the perfect choice for pharma goods, computer parts or delicate electrical products. 
Alternative Trailer Types
Curtainsiders and box trailers are the most popular trailer types in our fleet, but we also have clients who need us to provide step decks, flatbeds, tanks and RGNs, all of which are custom-built to handle specialist cargo. If you need to move unusual goods, such as hazardous chemicals, prefabricated structures or large out-of-gauge machinery, feel free to talk to your Baku GLS planner. We've got hundreds of trailers at our disposal, and our talented team of transport experts have decades of experience.
Now offering express services 
Our express road freight service has expanded! We've recently invested in brand new double-manned trucks with a continuous effective range of 1,200 to 1,300 kilometres. This increases our express transport capacity, and means that we can now offer non-stop express services between Ireland, Germany and the Benelux regions. Get in touch with us today via our contact form, or call +353 5391 61786 to learn more.