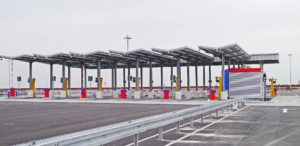 There's just one week left until 12 April, and the UK parliament are still no closer to a workable withdrawal agreement.
With one week to go, we look at what EU clients can do now to prepare goods for movement through UK ports in the event of a no-deal Brexit.
Customs Declarations: Arriving at a UK port from the EU
If a no-deal Brexit forces trucks to queue on the tarmac at UK ports, this would cause massive congestion and supply chain delays for any goods traveling to/through Great Britain. To get around this problem, the UK customs authorities are planning to simply refuse to carry out customs formalities on British soil. According to the latest guidance from the UK, all customs declarations will need to be made on the EU side of the border, before checking goods onto a UK-bound ferry or train. We're unsure how the UK would handle cargo that's already in transit at 11pm on 12th April, but at least it offers clarity on transport procedures in the weeks following a no-deal Brexit. The plan is for EU-UK customs declarations to be made online, up to 3 weeks prior to transit.
Documenting EU goods headed for the UK
If the UK leaves the EU without a deal or a customs union, customs documentation will need to be completed on every truckload of goods moving from an EU member state into the UK. Thanks to the transitional simplified procedures (TSP) that the UK have set out, there is a framework for EU businesses to follow. It can all be done electronically, but it's still a significant new administrative burden that EU businesses must bear. For the moment, our advice to clients is to at least get an EORI number and to familiarise yourself with the specific tariff codes relevant to your business. You can find more information on our Tariff Codes page.
EORI: registering to export to the UK
The UK are urging all UK-domiciled businesses that import or export beyond the UK & Ireland to get a UK EORI number. They have not explicitly stated that EU businesses trading with the UK will be held to the same standard, but we feel that EORI registration is a worthwhile precaution for most of our EU based clients to take. We've been through the EORI registration process and can advise you on this if you're still uncertain.
What information do Baku clients need to provide?
If there's a no-deal Brexit, hauliers like Baku will need to be able to provide additional customs information on arrival at a UK port. We'll need all of our clients to provide us with the reference number they received when completing their customs declaration (also known as a master reference number or movement reference number), and/or their EORI number, so that we're ready for on-the-spot customs checks and can pass through the UK border as swiftly as possible. We've already invested in our IT systems so that this new data can be stored and retrieved in a streamlined manner should a no-deal Brexit take place.

The UK will not expect everyone to have a Customs Guarantee in place overnight in the event of a no-deal Brexit, but they will expect businesses to arrange a direct debit instruction with their bank, so that any customs duties or import VAT payable can be withdrawn automatically (in the same month as the declaration was submitted). There's a transition period of just under 6 months in which to arrange a formal financial guarantee. The UK already has established customs guarantee procedures in place for non-EU trade; more information can be found here.
Are we still at risk of a no-deal Brexit?
There's clearly no appetite in the UK or EU headquarters for a disorderly Brexit, but that doesn't change the legal likelihood of a no-deal departure taking place. Theresa May has written to the EU requesting a new Brexit Day of 30 June 2019, and there are reports that Donald Tusk is considering a flexible 12 month extension, but these actions simply change the timelines – they don't eliminate the possibility of no-deal.
The same applies to Yvette Cooper's bill, on track to become law next week. This bill will legally force the UK prime minister to keep asking for a delay when parliament can't agree on Brexit, which theoretically prevents the UK from endorsing a no-deal departure. The UK can only ask for an extension, however; it can't enforce one. Every time the UK request a Brexit extension, that delay will need to be agreed by all 27 EU member states; if just one EU state determines that they cannot support another Brexit delay, the extension would be refused, and the UK would leave the EU without a deal.
Baku GLS are prepared for all Brexit Scenarios
Deal or no deal, the Baku GLS team have spent months preparing for Brexit. We've invested in our knowledge and systems so that, when the UK leaves the EU, we can keep goods moving through Ireland, the UK, the EU and beyond. Find out more on the Baku Brexit Hub.