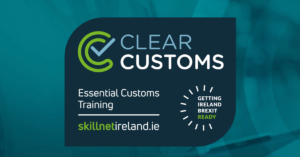 Have you registered for the Clear Customs Initiative yet? Launched earlier this month, Clear Customs is a support programme designed to give Irish exporters, customs agents & intermediaries the tools they need to build their customs capacity. Backed by Government, Enterprise Ireland, CILT, the IEA and the IIFA, this new initiative gives every affected business the chance to meet an uncertain customs climate head-on. 
A potential twelvefold increase in customs red tape
If you're an Irish business that trades mainly with the UK, there's a good chance that your customs compliance burden is going to increase after Brexit. In fact, the latest estimates suggest that Ireland's annual customs declarations will soar from 1.6m to 20m when the UK leaves the EU. The Irish Government have been actively recruiting additional customs staff in readiness for the new customs requirements, however up until recently there was very little support available to Irish businesses. 
What is the Clear Customs Initiative?
Launched on 7th August in association with Skillnet Ireland, Clear Customs offers essential customs training & support to those businesses most likely to be affected in the weeks and months following Brexit Day. Any eligible business (Irish exporters & importers, customs agents and intermediaries) can use the Clear Customs Initiative to get their business ready for customs after Brexit. There are 2 parts to the initiative:
Customs Compliance Training
The 6-week Clear Customs training programme is free-of-charge, and has been designed to give businesses all the skills they need to make a compliant customs declaration. This programme has the potential to help thousands of businesses across Ireland, so we're encouraging all of our clients to sign up and take advantage. 
Restructuring & Retraining Grants
Thousands of job roles are going to have to evolve if businesses are to handle the additional workload created by a post-Brexit customs environment. Restructuring programmes are costly, so Clear Customs has been designed to help businesses meet these costs, too. Eligible Irish businesses can apply for a Customs Financial Support payment of up to €6,000 per employee (max. 10 employees), to help cover the cost of restructuring and retraining their staff.
Express your interest before 20 September 2019
If you're interested in Clear Customs, either for training or funding or both, you need to register on the Government's Skillnet website as soon as possible. The deadline for expressions of interest is 20 September 2019. Find out more and register your business at skillnetireland.ie/clear-customs.
Baku GLS are getting ready for the new customs climate
At Baku, we're delighted to see the Government taking positive steps to prepare businesses for what lies ahead. The Clear Customs Initiative gives our clients the much-needed expertise and support they need to meet the new customs environment head-on. As always, we continue to watch the developing Brexit situation closely and stand ready to deliver excellence, whatever happens on 31 October 2019.