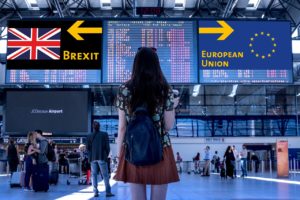 The risk of a no-deal Brexit on 1st June fell this week as the UK began to prepare for European Parliamentary elections. By going ahead with European elections on 23 May, the UK meets the terms of the 31 October flextension; they now have six months to put together a Brexit plan and avoid a no-deal departure.
We look at some of the biggest political hurdles that MPs will need to overcome to avoid a no-deal Brexit, and try to predict the sort of Brexit we'll get based on the current situation.
1: The International Trade Dilemma
The UK needs to decide whether it wants to trade in alignment with the EU (e.g. a customs union), or set up fresh trade deals with individual nations across the rest of the world. Unfortunately, there's no clear majority for either option in Parliament, and there's no way for the UK to have both options.
If the UK wants a customs union with the EU, they will have to cede control over their own tariff rates with non-EU countries, and match the international tariff rates set by the EU. Without control over the tariffs payable on goods coming into the UK from non-EU countries, the UK will be unable to set preferential rates with new trading partners, which will hamper any attempts to negotiate international trade deals.
Hard brexiteers in Westminster are demanding autonomy over the UK's tariff rates, while pro-remain politicians are keen to ensure that Brexit doesn't harm existing trade with the EU member states. If this deadlock can't be resolved by 31st October, it's possible that the UK could leave the EU with no deal, effectively leaving it without any established trading partners, in or out of the EU.
2: The Northern Ireland Border Dilemma
The UK's only land border with the EU has garnered the most public attention, and with good reason. The Good Friday Agreement means that can't be a hard border between the Republic of Ireland and Northern Ireland, however there can't be a hard border between Northern Ireland and Great Britain, either.
The Northern Irish Backstop proposal would have given businesses a level of certainty during the transitional period immediately following Brexit, but it was unacceptable to hard Brexiteers as it came with no expiry date. Now that the Withdrawal Agreement has been rejected three times in Westminster, it's unlikely that this Backstop will ever come into force.
The European Research Group (comprised of pro-Brexit Conservatives like Jacob Rees-Mogg) has proposed that any logistical issues at the NI border can be addressed by maintaining the rules of Ireland's all-island Common Biosecurity Zone and using existing customs clearing technology. While this may work in practice (just as the Backstop would have worked in practice), it ignores the deep-rooted positions of the established political parties in Northern Ireland.
3: No Majority in Parliament
Normally in the UK, the party with the most seats in Westminster can push through important legislation with majority votes, but this hasn't been the case for Theresa May's government. Mrs May inherited a majority of just 50.8% when she took charge of the Conservatives in 2015, and fearing that this wouldn't be a big enough majority to deliver Brexit, she called a snap election in 2017. This strategy backfired; the Conservative party's share of seats in the House of Commons dropped to 48.8%. What's more, multiple Brexit camps exist within the party, and Theresa May has faced a record-breaking number of ministerial resignations since taking office.
This week, Mrs May met with Jeremy Corbyn, leader of the UK's Labour party, in an attempt to come up with a workable majority in Westminster, but the chances of a deal between the two largest parties are slim. This last-ditch attempt to forge a workable majority for any kind of Brexit in Westminster is unlikely to get resolved before the European elections on 23 May.
What happens next?
If these three issues can be resolved in the coming months, then it should be possible for the UK's leaders to come to an agreement, and we could end up with a well-managed Brexit. As things stand, there's no clear path through any of these political issues, which means we're still on course for a fresh set of emergency summit talks on 31 October. The 23rd May elections will be an opportunity for politicians to gauge the wishes of UK citizens, almost 3 years after the initial referendum took place, but it is unlikely to help Parliament move forward in a single unified direction.
What we're doing to prepare
Until there's a clear direction and confirmed strategy from government, it's difficult for businesses to prepare, but at Baku we're prepared for anything …including a no-deal Brexit. If the UK leaves without a deal on 31st October, we're ready to work with the UK's DVSA for new road haulage permits and the Animal and Plant Health Agency for animal imports and exports so that our client's goods can arrive at their destination in good time. In readiness for a new tariff climate we've invested heavily in our customs knowledge and procedures, and we have alternative routes ready to go in the event of major port delays. Find our more about our Brexit preparations on the Baku Brexit Hub.