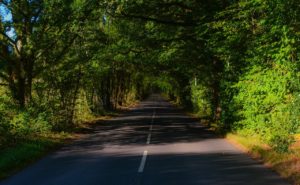 The Irish Road Haulage Association have launched a new video campaign to highlight the dangers of poor verge management on Ireland's regional roads.
In a 15-minute video, IRHA Deputy Vice President Paul Jackman gives a driver's-eye view of the hazards presented by overhanging branches, overgrown hedges and poorly-positioned signage on R class roads.
A driver's eye view of HGV hazards
In Jackman's video, available on the IRHA website and YouTube, viewers get a view from the cab as Jackman's truck travels down the R681 in Co Waterford. On a journey peppered with blind bends, overgrown ditches, low-hanging tree boughs and badly-positioned telegraph poles, viewers are given a near-perfect illustration of the most common challenges faced by HGV drivers whenever they're forced to leave the national road network and travel on R roads.
"There isn't a haulier in the country that could not get in their own truck and make a similar video of their own area." — Paul Jackman, IRHA
Thanks to the IRHA's video, the general public can now see, first-hand, how dense overgrowth makes a road much narrower for HGV drivers. Single-carriageway regional roads wide enough for two small cars to pass each other comfortably are often much narrower at a height of 3 metres (the height of most trucks' wing mirrors). Overhanging trees and poorly-installed street furniture will often lean in over the road and force trucks out towards the middle of the carriageway. This narrowing of the passable space on R roads doesn't just force trucks out of their own lane — it slows down time-sensitive deliveries and diverts the driver's precious attention away from the road in front of them.
"I have yet to come across a country with as many blind bends as we have." – Paul Jackman, IRHA
While poorly-placed telegraph poles and tree branches risk damaging a truck's mirrors and trailer, the larger issue is the hazard these narrow roads present to Ireland's most vulnerable road users. Learner drivers, who haven't had anywhere near the same level of training as an HGV driver, can't use the motorway network, so they're often left with no choice but to navigate these overgrown narrow lanes and blind bends with minimal instruction  …and it's a completely avoidable problem.
Transport Infrastructure Ireland (the TII) maintain the c. 5,400 km of motorways (M roads) and national secondary roads (N roads) covering Ireland, but responsibility for verge maintenance on individual R roads falls to local councils, which is perhaps why this problem has yet to be addressed at a national level. It's one of the most common issues faced by Irish truck drivers, so the IRHA plan to present their footage to a number of state bodies like the Road Safety Authority and the Department of the Environment, as well as the Gardai Siochana and the relevant local authorities. They're also appealing for hauliers across the country to raise the issue with their local council and local Garda Roads Policing Unit.
At Baku, we welcome the fact that the IRHA are drawing attention to this issue. Like most hauliers, our route mapping software keeps us on the National Primary Routes and National Secondary Routes wherever possible, but there are times when our HGV drivers have no choice but to use smaller rural routes. There's no excuse for such an unnecessary hazard to exist on Irish roads, so we hope that, thanks to IRHA's campaign, we'll see some changes in the near future.
Find out more
Any drivers or hauliers who want to learn more about the IRHA's campaign can visit their website at www.irha.ie.