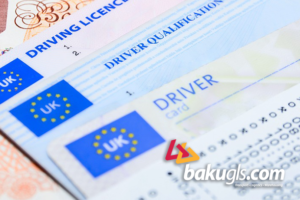 If the UK leaves the EU without a deal on 29 March, there's a risk that professional drivers with UK-issued licences may need to apply for a new set of documents to cover EU journeys.
According to the latest UK government guidance, commercial drivers with a UK licence may need an IDP to travel in the EU from 29 March, and there's also a risk that UK-issued CPCs will no longer be valid within the EU.
At Baku, some of our drivers hold UK licences, so this is a situation we've been monitoring closely.
International Driving Permits (IDPs)
IDPs, or International Driving Permits, were originally created to help foreign authorities to understand a driver's licence in their own language. Meant to accompany, not replace, the holder's existing driving licence, an IDP is a common requirement in countries with non-latin languages (e.g. Bahrain and Japan).
Currently, EU licence holders don't need an IDP when driving in other EU states. In Ireland, we don't even require driving licence holders from non-EU countries to carry an IDP. Unfortunately, our country is a rare exception within Europe; almost every other EU nation could technically require UK drivers to hold a 1968 IDP from 29 March 2019 in the event of a no-deal Brexit.
The timing of Brexit Day aligns almost perfectly with a baffling decision to make it harder for UK drivers to get an IDP. Previously, the AA or the RAC could issue a driver with an IDP by mail order, but as of next Friday, this service will end, and UK drivers will be forced to apply for an IDP at the post office. International Driving Permits will only be issued over-the-counter at a limited number of branches (there's no online or mail order option), and permits will need to be renewed every 12 months.
From our perspective, forcing UK drivers on EU roads to hold an IDP would create unnecessary red tape that everyone in the UK and EU could do without for the next few months. An IDP is no indication of a driver's skill, experience or ability (you don't sit an examination or complete additional training to get an IDP — you just fill in a form and pay a small fee). It seems a waste of time to send highly qualified drivers to a Post Office and ask them queue up for a piece of paper that has no bearing on their skills or competencies, but based on the current UK government guidelines, this is a real possibility for UK licence holders planning to travel on EU roads. At Baku, we're hoping that common sense will prevail and that a joint statement of some kind from the UK and EU member states can negate the need for IDPs post-Brexit.
Driver Certificates of Professional Competence (CPCs)
A greater area of concern for our industry is the future validity of UK-issued Driver CPCs. At the moment, a lorry driver who holds a CPC is certified for travel anywhere within the EU or EEA, and the UK, as an EU state, benefits from this arrangement. If the UK crashes out of Europe with no deal on Brexit Day, then UK-issued CPCs may, by definition, no longer be valid in the EU and EEA.
The latest guidance from the UK government states that UK nationals working for EU companies and driving in the EU and EEA will need a Driver CPC issued by an EU or EEA country. Drivers who hold a UK-issued CPC are being recommended to exchange it for an EU Driver CPC before 29 March. Thankfully, the small number of our employees affected by this will still be covered by our operator licence.
Baku's Operator Licences:
Operators running road transport between Ireland, the UK and continental Europe currently need to hold an EU Community Licence, which covers transport within the EU. Guidance from the UK government suggests that, in the event of a no-deal Brexit, the EU Community Licence may no longer be valid on UK roads.
Should the UK decide to stop recognising the EU Community Licence, all of Baku's UK journeys will still be covered under our existing ECMT licence. The ECMT (European Conference of Ministers of Transport) licence already covers travel in non-EU territories like Albania, Macedonia, and Turkey, and it will cover UK travel in any event. It's possible that the ECMT licence will become the default licence for EU operators transporting goods in and out of the UK post-Brexit.
Our Compliance Preparations
Today, drivers from any UK and EU member state can drive safely on one another's roads, and there's no clear fundamental reason why this should change post-Brexit. The skills of Europe's professional drivers won't change overnight on Brexit Day, and neither will the rules of the road or shared standards like the Driver CPC. In addition, a fluid cross-border supply chain is vital for every economy in the EU, and we're already facing the risk of port delays in the event of a no-deal Brexit. We're hoping that lawmakers will acknowledge all of this and come up with a sensible agreement that maintains the existing standards and licencing requirements, but nothing has been confirmed yet.
At Baku GLS, our Brexit Team have been preparing for a no-deal Brexit for months. We stand ready to support our drivers in our ongoing mission to deliver goods on time, every time, and we're ready for whatever comes next. Find out more about our Brexit Preparations.