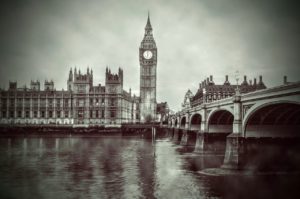 In a recent interview, British Foreign Secretary Jeremy Hunt claimed that the UK might need extra time to get a Brexit deal agreed, suggesting that the deadline of 29th March might be kicked forward.
We look at the likelihood of the UK postponing their withdrawal from the EU, and the impact a delayed Brexit would have on those of us in the Transport Industry.
Why might Brexit be delayed?
Following the UK parliament's recent rejection of the Withdrawal Deal, and with less than 60 days to go before Brexit Day, Theresa May and her government are struggling to wring a workable consensus from a deadlocked British parliament.
Westminster has realised that their deadline for reaching an agreement is much earlier than 29th March (any new deal would need at least two weeks to be agreed and ratified), and some MPs are starting to play for time. In a radio interview on Thursday, Foreign Secretary Jeremy Hunt said that, if a new UK/EU withdrawal deal could be agreed before the 29th March, the UK "might need some extra time to pass critical legislation", suggesting that the UK might request a delay to Brexit Day.
Would a delayed Brexit be a good thing for the transport industry?
It all depends on the reasons for a delay…
If a workable, mutually acceptable deal between the EU and UK can be reached prior to 29 March, then a delayed Brexit would be "worth the wait". As an industry, if we could predict at least some of our future customs costs, and forecast likely border crossing times, this would give us a degree of certainty for April 2019 and beyond. We could accept a legislative delay of a few days to get this done.

On the other hand, if Brexit were to be delayed with no clear, concrete deal on the books, there would be no upside. It would merely prolong the uncertainty that our industry has had to face for the past two years. A delay could also cause inventory and supply chain issues for businesses on both sides of the UK border; most manufacturers, wholesalers and large retailers have already stockpiled goods in readiness for Brexit, and these contingency plans all rely on a 29 March departure date.
Does the UK government want to delay Brexit?
Jeremy Hunt's views on a delayed Brexit are not shared by everyone in Westminster. In fact, on Tuesday night, British MPs voted against two separate proposals to extend Article 50 beyond March 29th. Rather than endorsing a delayed Brexit, at this stage MPs are being asked to skip their half-term holidays (Westminster's February recess has been cancelled) and spend more time in Parliament working on a better deal. With no clear agreement on what a 'better Brexit deal' would even look like, MPs may find themselves forced to ask for extra time in the next few weeks.
Would the EU accept a delay to 29th March?
We don't believe that the EU would accept a later Brexit Day at this stage. It's clear that Europe's leaders are running out of patience with the UK; the Withdrawal Bill that Westminster rejected was 18 months in the making, and the UK haven't proposed a new withdrawal deal to replace it. In the absence of any new ideas from the UK, there's not a lot that the EU can do to rescue the Brexit negotiations. In fact, it looks like the EU have started to accept the likelihood of a no-deal Brexit and are moving on. Brexit is on the agenda for just one more European Council meeting (the General Affairs Council meeting on 19 March 2019).
A delayed Brexit: our prediction
Based on all of the factors above, we don't believe that Brexit can be delayed at this late stage. We expect the UK to leave the EU with no deal on 29th March, and we're continuing to prepare for this. We have contingency plans in place for Brexit Day, and we've invested in our route and cost modelling technology so that we can issue and revise estimates in real time.
Baku GLS: Ready for No Deal
If the UK crash out with no deal, our industry will be forced to change at a pace and scale that we haven't seen in decades. New routes, new technologies and new customs procedures will emerge throughout 2019, and we'll all have to respond accordingly. One thing that will never change is Baku's commitment to our customers. With an exceptional team of transport experts, the latest technology and a modern, sustainable fleet, we're ready to get our customers' goods to their final destination, whatever the weather.
Learn more about our preparations for Brexit — visit the Baku Brexit Hub