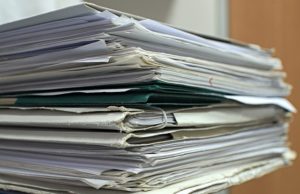 One thing is certain: from 29 March 2019, the UK will become a non-EU country. Based on current EU regulations, this means that every trailer carrying goods from the UK could be legally subject to checks at the Irish border. Considering how we deal with non-EU customs at the moment, we predict that the commercial invoice will become a vital customs document for every trailer coming in to Ireland from the UK.
What information should a commercial invoice contain?
Every trailer's customs documentation should show precisely what the trailer is carrying (the count and weight of goods), the value of those goods, and what tariff codes apply to those goods. We know from experience that, when customs officials check the customs paperwork on non-EU lorries, they usually compare what's on the customs declaration against what's on the commercial invoice. If there's a mismatch between the two documents, the customs officials have a duty to carry out a detailed inspection, which can cause delays, so the commercial invoice needs to be comprehensive.
What should a commercial invoice do?
Put simply, your commercial invoice is the basis on which your customs declaration is made. It needs to explain the contents and value of the cargo, show where the cargo is coming from and where it's going to, who's buying and selling the goods and which tariff codes are applicable. When they look at your invoice, the border officials shouldn't have to make any guesses on your behalf. It should act as a single point of reference — any mistakes can cause unnecessary confusion, suspicion and delays — so it has to be perfect.
When to get the commercial invoice
The commercial invoice might only be checked when it arrives at the port, but it will need to be checked and approved at the very start of the journey, most likely before goods are loaded at the originating depot (ideally even sooner than this). For most transport businesses, getting the commercial invoices signed off before trailers are loaded won't pose a massive administrative issue (this sort of paperwork is typically sorted before a load is collected), but it will make it much harder to accommodate last minute changes and offer last minute trailer space on-the-fly.
Will a flawless commercial invoice eliminate the risk of UK border delays?
In short, no. The UK is leaving the EU, and as a result of becoming a non-EU country, it will be subject to customs checks. What we still don't know is how these checks will work, and whether special trade deals can minimise customs friction between the UK and Ireland. For instance, according to EU Regulations, 100% of trucks carrying any food product will be subject to a customs documentation check; the hope is that exceptions to this rule can be made as part of the Brexit negotiations …otherwise a massive number of delays on UK/Ireland shipments will be unavoidable.
What will a UK/EU customs check look like?
We don't expect every lorry driver will be asked to hand over their customs paperwork at the border as if it were a passport; if rules are agreed in advance, the majority of UK/ROI customs checks could be conducted miles away from the actual physical border. Some border checks could be conducted at depots and/or bonded warehouses, or customs documents could be submitted and checked online. There's still a chance that most border checks could be effectively waived for the entirety of the post-Brexit transition period. What's most important, from a business continuity perspective, is that all of our systems and documentation is in order so that we're prepared for any eventuality on 29 March 2019.
How good commercial invoices can reduce delays for the whole transport industry
At the moment, only about 5% of trailers coming to Irish ports from non-EU countries have their customs documents inspected (there are lots of reasons for this, including pre-existing trade deals between Ireland and each non-EU country, so we can't expect the same outcome for UK shipments after Brexit). If, after Brexit, we're lucky enough to find ourselves in a situation where just 1 in 20 trailers are having their documents checked at Rosslare and Dublin on arrival from the UK, these delays could be managed if everyone's paperwork was already in order. If we, as an industry, are unprepared for customs checks on 29 March 2019, we run the real risk of gridlocked ports, missed deadlines and painfully unpredictable costs.
The more that we, as an industry, can do to prepare our customs documentation systems now, the better our chances on 29 March …and that all starts with the commercial invoice.
What we're doing to prepare:
To get ready for Brexit day, Baku GLS are in the process of adding the 8-digit tariff classification to all of our invoices and embedding other vital customs information into our accounting systems. This is just one of the many actions we're taking to get ready for 29 March 2019 Find out more about how we're getting ready for Brexit on the Baku Brexit Hub.