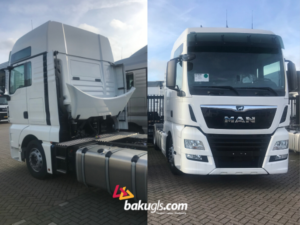 Four brand new MAN XXL left-hand drive TGX trucks are coming our way!
Part of a fifteen-truck order, these pristine trucks are the perfect choice for long-haul European freight. They're fully equipped with everything our drivers need to move cargo safely, efficiently and comfortably over long distances …and they're capable of carrying ADR-classed goods.
The trucks are on their way to us from the Netherlands now, and will join the fleet in the next few weeks. We can't wait to put these gorgeous new vehicles to work!
Motorway-Friendly Technology to Keep Goods Moving
The XXL is packed with features designed to reduce stopping time and keep goods moving across Europe's motorway network. MAN's Lane Guard system and Adaptive Cruise Control (ACC) technology keeps our trucks safely spaced at high speeds, and if our drivers face a long tailback of near-static traffic (for instance at a crowded motorway junction), the ACC has a Stop & Go function that helps our drivers progress in the most fuel-efficient manner. MAN have thought of everything; they've even made room for TollCollect devices so that trucks don't have to stop unnecessarily for tolls on the continent. 
MAN TGX XXL: The Perfect Choice for Long Haul Drivers
With the XXL model, MAN have put just as much care and attention into driver comfort as they have into efficiency and torque. With two bunks on board, the cab has over two metres of vertical space so that even our tallest drivers can stand comfortably inside. The onboard bluetooth can sync to two phones at once so that drivers on double-manned express journeys never have to compromise when they're behind the wheel. To make things as convenient and safe as possible for drivers, the onboard radio and communication systems are speech-operated. What's more, these trucks are quiet — rolling noise at the front axle is just 70 dB …that's quieter than most domestic vacuum cleaners.
Industry-Leading Gearbox Technology
The fourteen-speed gearbox on these new trucks is underpinned by MAN's TipMatic and EfficientRoll technology. When drivers face an incline, the gearbox shifts down incredibly quickly so that the truck can keep momentum and safe fuel. TipMatic can also automatically adjust gears to match the weight of the trailer. Even in the most extreme conditions, the gearbox is equipped with the technology our drivers need; if our trucks get stuck in snow or mud, the TipMatic gearboxes have built-in 'rocking free' technology to help the truck move off.
Uncompromising Safety Standards
These new trucks are incredibly safe, both on and off the motorway. Common-sense features like electrically heated wing mirrors and cornering lights ensure that drivers have the clear visibility they need to maneuver in low light and bad weather. At high speeds, MAN's state-of-the-art BrakeMatic electronic brake system gives drivers an added layer of support. Using cameras at the front of the cab, BrakeMatic's onboard computer records the distances, positions and speeds of vehicles in front of the truck. If a hazard suddenly appears on the road, BrakeMatic detects it and reacts to it in a split-second. 
Growing The Fleet in 2020
The MAN TGX is a versatile workhorse that offers power, comfort and energy efficiency, so we're  delighted to continue our relationship with MAN as our business grows. Find out more about the Baku GLS fleet.