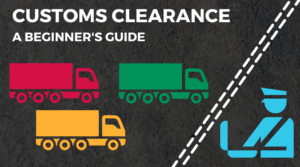 Do you need a Customs Clearance service? How does it work, what's included in the service and what kinds of transport business can deliver it for you?
In this guide, we'll share everything you need to know about Customs Clearance. We'll explain the different services that fall under the umbrella of Customs Clearance, show you why it's such an important service for import and export businesses, and help you pick the right level of clearance support for your business.
What Is Customs Clearance?
Customs Clearance is an expert advisory service that helps importers and exporters move goods through customs. Customs clearance experts are specialists in customs paperwork and compliance. They cut the risk of goods getting delayed at the border, protect you from making costly mistakes on your declaration and take on the administrative burden of getting through customs control.
As a rule, your customs clearance expert (customs intermediary) will plan, complete and submit all of your customs paperwork for you. They usually act as your single point-of-contact for all customs matters, and liaise with customs authorities on behalf of your business. Some customs clearance providers may also be able to store goods for you in a bonded warehouse or pay your customs duty and VAT on your behalf.

Who Should You Hire For Customs Clearance?
Your customs intermediary can be a customs agent, a freight forwarder or a haulier (Baku GLS, for example!). They need to have enough customs knowledge and experience to keep your shipments compliant with all import/export rules. They also need to be connected digitally to the official customs systems of countries your goods travel through. 
The work of logistics — actually putting goods onto a truck and getting them from one depot to another — is very different to customs clearance. Clearance is more to do with getting you through legal formalities at the border. You can hire a single intermediary to handle logistics and customs, or you can hire two separate services — the choice is yours. 
Every type of customs compliance provider has its pros and cons. Freight forwarders can do customs clearance, but they may only handle goods under their direct control at all stages of the journey. Customs agents are experts in international compliance and documentation, but they don't always have the experience and contacts necessary to book passage through ports. 
At Baku GLS we have an in-house customs desk staffed by highly-qualified, experienced experts whose sole job is to handle customs clearance for our clients. We're AEO certified and we have bonded warehousing facilities right on site here in Rosslare. We're primarily a European haulier, but we have shipped goods all over the world and we have handled customs procedures at hundreds of borders all over the world. We have a solid understanding of multi-border shipments and complex rules of origin. Whether you need a pure customs compliance service or a combined customs/logistics solution, get in touch.
What Services Should Be Included In Customs Clearance?
The central goal of Customs Compliance is to help you move goods through customs quickly and efficiently, with no flaws or omissions in your paperwork. Your customs clearance partner should be able to offer you most of the services listed below.
Core Services:
As a bare minimum, your Customs Compliance partner should always be able to help you:
Pick the most customs-efficient Incoterms (i.e. which duties are payable by the buyer/seller)

Categorise your goods correctly (offering guidance on HTS and CPC codes)

Complete all necessary paperwork (intermediaries should be able to submit forms for you)

Calculate the right duty & VAT payments (including cost of freight, insurance, rules of origin etc)

Communicate quickly with customs authorities (customs clearance experts are usually directly connected by computer to systems like CDS and CHIEF).

Move goods through multiple territories (handling complex chains of customs paperwork) 

Audit your systems & processes to stay fully compliant with customs best practice
Specialist & Advanced Services:
Some, but not all, customs intermediaries can also offer the following added services:
Bonded warehousing & secure storage

Deferred duty payments

Out of hours support (24/7/365)

Port Health (CVED) checks

Preference Certificates (ATR and EUR1, for example)
The precise menu of services offered by your customs intermediary is important, but their experience and reputation is by far the biggest factor. Customs intermediaries should have AEO status, and they should be able to list the qualifications and experience of their senior customs team on request. Prior experience of customs procedures in your industry is very important, even in a 'new' customs environment like the UK post-Brexit.
How Much Does Customs Compliance Cost?
Technically, you don't need to hire a customs clearance expert. We strongly recommend you use a customs intermediary, especially if you're importing or exporting for the first time. 
Customs Clearance dramatically cuts your chances of getting held up or even refused at customs. If you handle the paperwork yourself and make a mistake, you can face fines and civil or criminal penalties. Even a minor error on your declaration can trap your shipment at the port, where you have to face extortionate quay rents and risk goods spoiling in the trailer until the issue is resolved. It's much simpler, safer and less expensive to get ahead of potential problems and work with a customs clearance expert from day one. 
Your Customs Clearance partner will usually charge you on a per-shipment basis. The price depends on how many borders you're crossing, the goods you're actually shipping, whether you're shipping goods on a full-load or groupage basis, and so on. If your customs intermediary has a good understanding of duty relief schemes, rules of origin and the HS codebook, you'll usually save much more than you spend … and you'll keep your goods flowing smoothly at the same time. 
Just remember that hiring a customs compliance partner is a bit like hiring an accountant, in that the ultimate responsibility falls on your shoulders. Make sure that your customs intermediary is as good as they say they are. Get references, verify their credentials and insist on seeing every form before it gets sent, at least for the first few months of your working relationship. 
If you'd like to hear more about the customs compliance service that we offer here at Baku GLS, please get in touch with us on 00 353 53 9161786. We're happy to talk you through our accreditations and services in more detail.