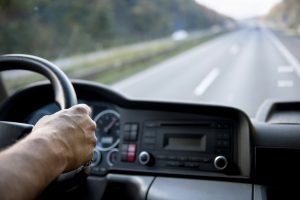 The Truck Driver Shortage
There is no doubt that a career as a HGV driver is one of the most unattractive career paths that one can take at present. There is a huge amount of negatives to being a truck driver, and few, if any, incentives to pursue a career as a HGV driver. This has led to problems within the Transport industry. Here we will look at some of the problems facing Transport companies, some of the reasons why the career path is so unappealing, and some potential solutions to the biggest issue within the transport industry.
Ageing Workforce & Under-staffing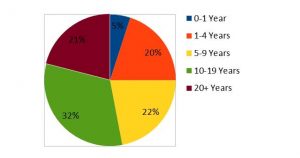 A critical issue facing the Transport industry is the average age of its HGV Drivers. In Ireland, the average age of a driver is 48 years old. In the UK, the average age is in the mid-50's, with about a quarter of these people set for retirement in the next 10 years. The UK currently has a driver shortage of about 45,000 drivers, while only 17,000 new drivers are being issued each year, about half of what is needed.  As you can see from Illustration 1, over half of drivers in Ireland have 10 years minimum experience, which, although showing a highly experienced workforce, points to an ageing one. There is a lack of appeal to young people and unemployed people to start a career as a HGV driver, and there is no real movements being made by transport companies to change this. Even though the cost to obtain a licence costs about £3,000, both companies and Governments are unwilling to foot the bill. Apprenticeships are few and far between, with companies unwilling to train drivers for fear that they will jump ship to rival companies. Although the UK Government launched a HGV Driver Apprenticeship scheme in late 2015, progress has been slow, as many youngsters are being warned off a future in transport by parents, schools and their peers.
Drivers Problems
Drivers themselves are becoming increasingly disillusioned with life on the road. There are a multitude of issues drivers have with current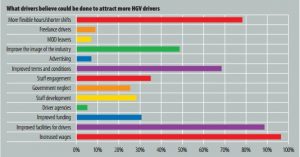 working conditions. Many are being asked to take freight to distant locations across Europe, leading to lengthy working weeks and extended periods of time away from home. The maximum working week for HGV drivers is 56 hours, however, many drivers spend significantly longer in their trucks, due to breaks and overnight trips.  The table on the right is a survey of more than 400 UK HGV drivers. Nearly 80% believe than shorter shifts and flexible work hours are needed, highlighting a major problem with drivers. Another big issue with drivers is wages. The average wage for a truck driver in Ireland is €12 per hour, which is the median wage in Ireland. Over 90% of drivers feel this is not enough for the work they do and the stress and responsibility it brings. Facilities is also a big problem with drivers. 88% of drivers feel the facilities provided to them while working are inadequate, and in some cases, disgraceful. Drivers are forced to sleep in their cabins, wash in squalid truck stops and are constantly at risk of robbery. Drivers terms are also an issue, with the majority believing that being away from home for long periods, no pay for overnight stops and poor working hours are unacceptable.
Solutions
In such a competitive industry, firms cannot find the extra capital needed to improve wages and incentives, as this would result in a rise in price and subsequently a loss in demand for the company's services. However, something major is needed in order to improve the image and appeal of the truck driving industry. The UK offering an apprenticeship scheme was a step in the right direction. Fás in Ireland also offers training courses. However firms themselves need to offer something, whether it be training costs, apprenticeships, improved terms or increased wages, to stop a cornerstone of the economy from crumbling down.
An article by our business undergraduate, Peter Culleton