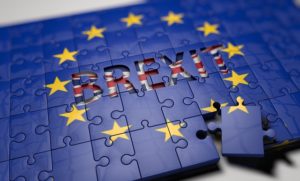 It's been almost a month since the UK formally left the European Union, which means we've got about ten months left to sort out a post-Brexit trade agreement with the UK. 
What happens next, what has been agreed so far and when will those of us trading with the UK know more about tax, customs and border procedures? Find out more on this week's article. 
What has already been agreed?
The 26-page Political Declaration that the UK and EU signed up to last year can be found on the EU website here. This declaration is basically an 'agreement to cooperate'  — it doesn't have a lot of specific detail — but it does give us an indication about what's to come. 
The most important points for those of us in Irish transport are probably customs technology, VAT equivalence and NI/ROI border checks: 
A High Tech Customs Solution
There is a commitment to make the most of technological solutions at the UK/EU border. It remains to be seen what this technological solution would actually look like, but at least there is a clear stated ambition to keep ports moving seamlessly.
VAT Equivalence in Northern Ireland
VAT rates in Northern Ireland and the Republic of Ireland will be harmonised so that businesses on both sides of the border don't face unfair competition as a result of tax rate manipulation.
Customs Controls in Northern Ireland
Goods bound for Northern Ireland will go through customs checks in Great Britain prior to crossing the Irish Sea. If goods are going to enter the Republic of Ireland via Northern Ireland, customs duties will be payable when the goods leave England, Wales or Scotland – there will be no hard border on the island of Ireland. 
What are the biggest risks to watch out for?
Brexit has now formally taken place, but we're not free of the threat of 'No Deal' just yet. The UK and the EU still need to negotiate a full withdrawal agreement, and until this has been done, we can't be sure about what the Irish supply chain will look like after 1st January 2021. 
There are three major negotiating hurdles that must be overcome at this stage:
1: Level Playing Field / 'No Dumping'
The UK wants complete autonomy and detachment from EU rules, but they also want a free trade agreement that guarantees zero tariffs and zero quotas. The trade agreement between the EU and Canada delivers something similar to this, and Boris Johnson has suggested using this as a template for the new EU/UK deal. The problem is that the UK poses a much bigger threat to businesses inside the EU:  if the UK were to manipulate VAT rates, state aid, workers' rights and so on to make itself more competitive, it could do more harm to EU businesses than if Canada were to do the same thing. There are also big questions over how an EU/UK trade deal might impact fishing rights and access to banking markets.
2: The EU Negotiating Mandate
Brexit doesn't just affect the UK/EU supply chain — every aspect of the EU's political relationship with the UK needs to be renegotiated. From data protection and policing to labelling standards and academic funding, the EU and UK negotiating teams will have to make thousands of decisions over the coming months. These topics can't all be negotiated at once – they have to be prioritised. The EU's Negotiating Mandate is effectively a list of 'what gets discussed first', and that list still needs to be agreed upon by all 27 EU member states. Some EU member states feel fishing rights are more important than border controls, for instance, while other states want to prioritise agreements on free movement of people and data protection. The EU Negotiating Mandate will prioritise these issues and enable negotiations to take place in an orderly fashion. .
3: Negotiation Timelines
The Brexit Transition Period is meant to come to an end on 31st December 2020. If the UK and EU Parliaments want to hit that deadline, they will have to conclude negotiations well in advance of this date, most likely by October 2020. The withdrawal agreement needs to be ratified by both the EU and UK Parliaments, and that process typically takes a few months. The UK are insisting on the transition period coming to an end on 31 December, while many in the EU are saying that the negotiation timeline is impossibly tight. The EU recently published an infographic on the EU-UK negotiation process which, tellingly, doesn't include a single calendar date.
What dates should we watch out for?
We'll update our Brexit Calendar as-and-when the situation changes, but at the moment, the most important dates are as follows: 
3 March 2020:

Formal talks on the future EU/UK relationship are scheduled to start (pending agreement on the EU Negotiation Mandate)

31 June 2020:

If the UK want to extend the Brexit transition period, they need to request an extension by this date

October 2020:

If a deal can't be agreed by the end of October, then it will be hard for the UK and EU Parliaments to ratify the agreement

31 December 2020: The transition period is scheduled to end on this date. If an extension is agreed, it will be a 12 or 24 month extension.

Where can I find out more?
As soon as negotiations are formally under way, we should have a much better idea about what post-Brexit trade with the UK will actually look like for those of us in the Irish transport industry. We'll continue to update the Baku Brexit Hub, and if you have any questions about how Brexit might impact your business, you can always give us a call on 053 9161786.