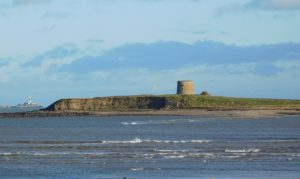 The international trading landscape is evolving, and Irish transport businesses have plenty of reasons to be cheerful about the future. The next phase of development in Dublin Port's 2040 Masterplan is about to begin, and we'll start to see more capacity on Stena Line routes to & from UK ports from early next year. 
Stena E-Flexer: increased capacity between Britain & Ireland
Back in spring 2016, Stena Line commissioned the Stena E-Flexer, a series of new RoPax ferries offering unprecedented levels of efficiency and capacity for Ro-Ro freight operators. Designed in Europe and built in China, these new ships have a completely new hull design and antifoul coating, helping them to move through the water faster (a top speed of 22 knots), with an internal layout that enables each vessel to carry up to 50% more vehicles than Stena's current fleet (3,100 lane meters). 
3 of the first 4 vessels will start life on the Irish Sea, serving routes between Ireland and Britain. The first ship, to be named Stena Estrid, will serve the Dublin-Holyhead route from early 2020, and the second and fourth ships, the Stena Edda and Stena Embla will operate the Belfast-Birkenhead route by 2021.
MP2: The Next Phase of Dublin Port's Masterplan 2040
Dublin Port have now lodged the planning application for MP2, the second phase of their €1bn capital investment project, according to news published on Fleet Magazine yesterday. As part of the MP2 Project, Dublin Port will be able to handle bigger ships, and more HGV traffic, with more flexible berths.
This new phase of development couldn't come at a better time. Dublin Port is a key part of Ireland's infrastructure, and it's getting busier (+3.6% growth in imports and +1% growth in exports in the first half of 2019). Brexit uncertainty has dampened UK volumes slightly, but cargo volumes from Continental Europe & beyond are growing at pace (volumes increased by 8.3% in the first quarter of 2019, then again by 10% in the second quarter). 
Flexible for the Future 
Stena's new ferries, and Dublin Port's new docking systems, are designed to adapt to whatever the future holds. The cargo space on Stena's E-Flexer vessels is incredibly versatile, enabling Stena to adjust their Ro-Ro and cruising passenger capacities to suit demand. The new ships also carry engines that can be modified to burn LNG (liquefied natural gas) if needed in future. Changes to fuel technology have been considered in Dublin Port's MP2 project proposals, too; the new investment will allow the port to convert oil berths into container berths as-and-when petroleum imports gradually decline over the next few decades.
A vote of confidence in the Irish economy:
Big Investments like these are great news for our industry. It's great to see large organisations like Stena Line and Dublin Port making big, long-term investments like these; they're a vote of confidence in the fundamentals of the Irish economy, where imports and exports continue to grow in spite of Brexit uncertainty.