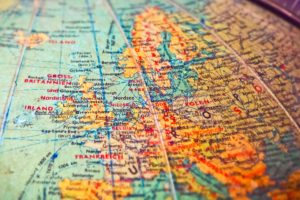 The 29th March is just weeks away, yet we still can't say with 100% certainty what will be required to move goods in and out of the UK after Brexit. One of the few regulatory benchmarks that we can rely on is Authorised Economic Operator (AEO) status. Already a recognised standard in and out of the EU, AEO status could improve border security and reduce delays for businesses on both sides of the UK border.  
Our research has confirmed that the Authorised Economic Operator (AEO) accreditation system will play a key role in minimising border delays after Brexit. The AEO standard is already in use all over the world — it helps reduce border delays and reduce theft, trafficking, smuggling and terrorism globally — and it's a recognised kitemark in the UK, Ireland and continental Europe.
What is an Authorised Economic Operator?
Authorised Economic Operators are businesses that have been certified as having met high security standards set out by the  World Customs Organisation (WCO). AEO status is one part of the WCO's SAFE framework, which is a global initiative that aims to harmonise customs systems and improve cargo security internationally.
To qualify as an AEO, you need to meet minimum standards of security and integrity in three key areas: information, staff and premises. A customs official in Kenya, Korea or Croatia, when confronted with an AEO's trailer, can trust that…
the container's manifest is an accurate description of the goods on board (information),

the driver and warehouse operators employed by the AEO have not interfered with the cargo (staff),

the premises that the cargo has been stored in is secure (premises).
Most major countries will offer priority customs clearance to AEOs, which minimises the risk of border delays for those operators.
How does AEO status help with Brexit?
AEO status exists to help cargo cross international borders safely and securely, so no matter what kind of UK border we end up with after 29th March, chances are that AEO standards will be able to cover it. The AEO system also doesn't 'belong' to the UK or the EU — it's a wholly independent shared standard — so it can't be revoked or withheld from Ireland, the UK or other EU states in the event of a no-deal Brexit. In fact, guidance from the UK government goes as far as suggesting that Authorised Economic Operators will benefit from "easier access to certain customs simplifications and/or deferment guarantee reductions or waivers" in the event of a no-deal Brexit (see here).
How AEO status could help with border delays:
If Brexit causes severe delays at roll-on roll-off ports serving the UK, then AEO status will become an important lifeline for those harbourmasters charged with moving trucks on and off the tarmac. AEO-owned trailers are already considered some of the safest, most secure and most efficient vehicles on the road — in many countries they already enjoy priority customs clearance. AEOs could be safely fast-tracked through customs with minimal inspection, leaving border officials free to focus their attention on those trailers with more demanding cargo or paperwork.
The likely benefit would depend on the type of AEO status that an operator holds. There are three types: AEOC (Customs), AEOS (Security) or AEOF (operators classed as both AEOC and AEOS)…
AEOC (Customs) border benefits:
Trucks and trailers from Authorised Economic Operators classed as AEOC should enjoy any or all of the following benefits at the UK border:
A simplified declaration & clearance procedure

Fast-tracking of regular & recurring services

A waiver/reduction of customs guarantee requirements

Single community authorisation paperwork for cargo crossing multiple jurisdictions
AEOS (Security) border benefits:
Vehicles owned by AEOS operators should see any or all of the following:
Less data required on pre-arrival / pre-departure summary declarations

Lower risk score, reducing the likelihood and frequency of customs searches

Fast-tracking of trailers through customs channels
Why isn't every transport company already an AEO?
Before Brexit, most transport businesses in Ireland and the UK could deliver a first-class service without AEO status. The EU's shared standards and rules around freedom of movement have meant that, for years, customs checks haven't been necessary and border delays simply haven't been a problem. AEO accreditation has — until recently — been an unnecessary extra step for many transport providers.
Baku GLS as an Authorised Economic Operator:
At Baku, we've been working to the highest professional standards for many years, and hold a number of accreditations including the TruckSafe Silver Standard, the GDP (Good Distribution Practice) Passport and ADR Certification (ADR classes 2 through 9). Our AEO application has been lodged in readiness for Brexit, and we already work to a high standard in terms of information, staff and premises security.
For us, AEO status is one of many pre-emptive compliance measures we've taken in the run-up to Brexit. No matter what customs landscape we face from 29th March, we'll be ready to support our clients' needs and continue to Deliver Excellence – First Time, Every Time.  Discover more about our Brexit Preparations.