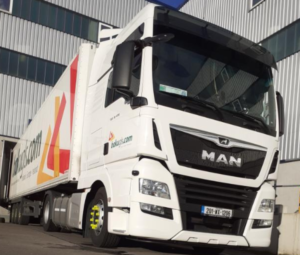 As a front-line business charged with keeping the supply chain moving, we are working harder than ever to deliver excellence in spite of the coronavirus (COVID-19) situation.
We're following the latest rules set out by the World Health Organisation (WHO) and doing everything in our power to keep our drivers safe and our clients' vital products, medicines and equipment moving throughout Europe. 
Find out more about the steps we're taking in this week's article. 
Delivering Excellence all over Europe
COVID-19 has not slowed us down at Baku GLS. Our drivers are out on the roads right now, delivering goods to destinations throughout Ireland, continental Europe and Great Britain. The photo above was taken by one of our drivers yesterday – it's one of our newest trucks delivering a load to a depot in Luxembourg.
While it's business as usual for us in many ways, the COVID-19 situation still presents an unprecedented challenge. Every country in Europe is implementing new social distancing rules or setting up new quarantine zones on an almost-daily basis, and the World Health Organisation (WHO)'s coronavirus guidance continues to evolve. The safety of our customers, our drivers, our warehouse team and the public at large is our top priority, so we're doing everything we can to help prevent the spread of this disease. The steps we're taking include…
Constant contact with drivers
We're monitoring the latest guidance from the WHO, the EU and national governments and keeping our drivers up-to-date on the latest rules at borders, pick-up and drop-off points. We're reacting quickly to every new announcement so that our front-line drivers stay safe and we minimise the risk of the disease spreading. 
New pick-up and drop-off rules
The biggest change for our drivers and warehouse staff has been the new safety protocols at points of delivery and collection. Drivers are remaining in their cabs at each individual loading and delivery point, and they are avoiding close human contact wherever possible.
Working remotely 
Under normal conditions, our head office in Rosslare is a noisy hive of activity. This week, based on the latest guidance on self-isolation and social distancing, many of our office staff have started working from home. We don't expect these new remote working policies to affect our standards of service — we continue to offer 24/7/365 support and our planners remain in constant contact with drivers and depot staff. 
Planning for an uncertain future
Because of our sector's role in Ireland's supply chain, Baku GLS is defined as a front-line business. We therefore have a responsibility to ensure that we can continue to operate throughout this crisis, even if some of our team need to self-isolate or stop work for a period of time. Our senior management team has examined our capacity closely, and we have plans in place to help us manage any coronavirus scenario. We're confident that we can keep goods moving in the weeks and months ahead.
Ready to support our clients however we can
We are still running all of our usual routes, including groupage and express freight, and we have no plans to restrict service in the foreseeable future. If you need to ship goods to a customer anywhere in Europe, we can still do it quickly, safely and cost-effectively. 
What's more, if you have been tasked with conducting a supply chain risk assessment for your business, we can help you with this. We are fully provisioned to uphold the highest standards of security and safety on all of our routes, and we have contingencies in place for border controls and/or staff and stock shortages.
Stay safe, and as always, if you have any questions, please do not hesitate to contact us.