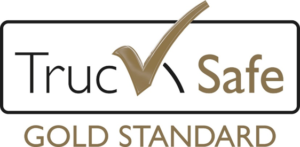 Huge Congratulations to the team at Baku GLS for achieving another Gold TruckSafe Standard for excellent service!
FTA Ireland TruckSafe™ audits operational compliance in the areas of road safety, haulage operations, roadworthiness, working time and environmental efficiencies. TruckSafe™ is available at 3 levels 'Bronze', 'Silver' and 'Gold'.
At Silver and Gold levels the standard focuses on how commercial fleet operators are managing their fuel purchasing and consumption.
Here at Baku we undertake an annual audit of our compliance in these areas. This process demonstrates members commitment to compliance and safety standards and also affords recognition for the company and team for the work being done to attain the highest possible compliance standards.