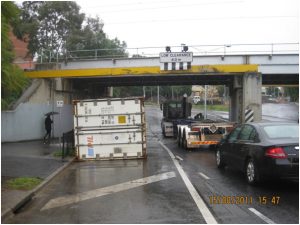 Irish Rail have reported an increase in railway bridge strikes by trucks in 2016, with the total looking set to have increased from 85 hit in 2015.  It is not always obvious what damaged has been caused , but it can be serious and costly to all involved not to mention the chance of injury. Bridge strikes put you at risk, delay trains and can lead to points, fines and prosecution.
You should always contact Iarnrod Eireann immediately if you collide with a railway bridge.
Know your heights – Know your limits!