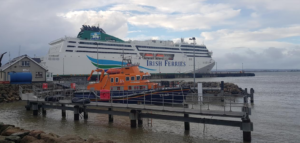 We're sorry to see the planned reduction in routes from Rosslare via Irish Ferries. The current plan is for the new W.B. Yeats ferry to serve Cherbourg from Dublin Port, sailing 4 times a week, and for the following Ireland-France routes to be cancelled in 2019:
Rosslare – Cherbourg
Rosslare – Rosscoff
Irish Ferries announced the likely route closures 
on Twitter last Tuesday
.  The brand new W.B. Yeats cost Irish Ferries €144 million and has 3,500 lane meters of capacity (nearly three times that of the thirty-year-old Oscar Wilde ferry currently sailing from Rosslare). No statement has been made as to the future of the Oscar Wilde, and Irish Ferries are keeping the situation under review, so it's possible that some routes may remain open or operate on a reduced schedule.
While the reduction of Irish Ferries' France-bound routes from Rosslare is obviously a major concern for us, Stena Line will continue to serve Rosslare – Cherbourg, so we'll still have access to mainland Europe. There's also no suggestion that the Rosslare – Pembroke or Rosslare – Fishguard services would  be discontinued. We'll keep a close eye on developments over the coming weeks.